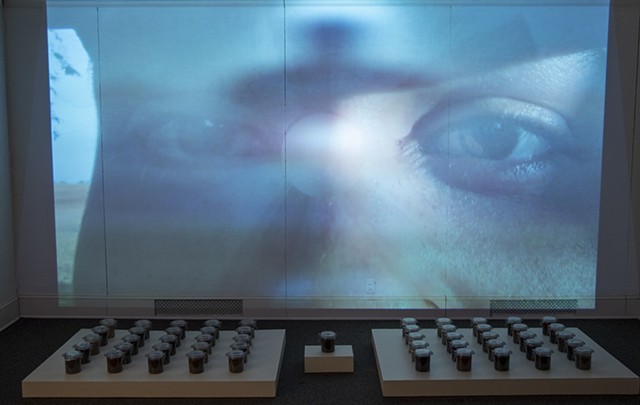 This Land - Still Shot from Installation
Single channel video: Duration 4:13 at 1080p HD Soil from 50 US states and the District of Columbia
Varies
2021
Milt Friedly b. 1958
This Land
2020
Take My Hand, poem by E. Ethelbert Miller
Installation with Video - copy and paste in your browser:
https://www.dropbox.com/s/cw6cumh42671gxl/This%20Land%20LMA%20with%20Text%20Panels.mp4?dl=0
Single channel video: Duration 4:13 at 1080p HD
Soil from 50 US states and the District of Columbia
Synced with Woody Guthrie's, This Land is Your Land, 1940
Performed by Elizabeth Mitchell, little seed, songs for children by woody guthrie
Music Credits: This Land Is Your Land, written by Woody Guthrie
Published by Ludlow Music, Inc. and Performed by Elizabeth Mitchell, Smithsonian Folkways Music
Installation varies in size
This Land was part of the Echo Valley Art Group's 75th Anniversary Show at the Lancaster Museum of Art.
TAKE MY HAND
(for Woody Guthrie)
Take my hand and let us walk again.
Let us discover America.
Let us discover who we are.
We are as beautiful as the land
with our diversity of mountains,
rivers and trees.
We celebrate our colors beginning
with the blueness of the sky and the
green grass growing below.
Let us walk across this land
from New York to Mississippi.
Oh, beyond the Grand Canyon
to embrace California
and kiss the Pacific
Ocean.
This land must be forever free
and owned by God the protector
of us all.
Precious Lord,
take my hand
and let us walk again.
Let us rebuild America.
Let us discover who we are.


- E. Ethelbert Miller
August 3, 2020